Audio-Visual to Broadcast Solutions
Sales | Service | Rentals
Design & Installation
Roland Pro A/V – V-8HD Video Switcher

Roland has announced they will be releasing the new V-8HD video switcher. The V-8HD has eight HDMI inputs, built-in 18-channel audio mixer, and support external battery power, making it the most versatile and efficient HDMI switcher available. Weighting in at only four pounds, the V-8HD can comfortably be set up and carried wherever.
Panasonic NDI Compatible HD PTZ Camera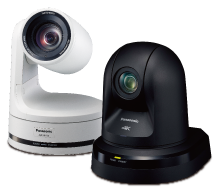 Produce your shows in a completely new way — using sources from all over your network, not just what's physically patched into your SDI video router. NDI (Network Device Interface) by NewTek is a standard anyone can implement to connect video equipment across a network. Your production switcher, capture system, media server — any NDI-enabled device on the network — can see and access content from all other devices, allowing more sources than ever before to be used for live production.